WELCOME TO TOTAL HEALTH PHARMACY IN OAKVILLE
We offer dispensing of prescription medication, over the counter medications, vitamins, supplements and advice. Visit us today at 1131 Nottinghill Gate in Oakville!
At Total Health Pharmacy, we take care of your total health. Using the latest innovations, we are able to better serve customers, ensuring they receive the medications they need coupled with the proper instructions.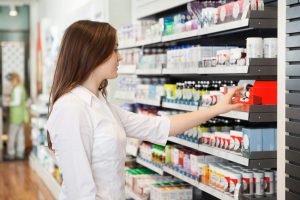 Our Guidelines to Protect Against COVID-19
To promote SOCIAL DISTANCING:
1. When waiting for your prescription(s)
You can wait outside in your car (we can call/text when ready)
If you are waiting in the store, please try to keep a 2-metre distancing from others
Have your physician fax us your prescription directly or email it to us ahead of time and bring in the original at the time of pick up
Call ahead or try our online system
Give us 1 week notice in order to ensure that we have time to deal with any stock issue or having to contact your doctor
Take advantage of our free delivery
Consider calling instead of face-to-face
Feel free to submit questions by email or by using our refill website
Save 30% off Detox Kits from
10-Day Metabolic Detoxification Program Clear Change® 10 Day Program with UltraClear® RENEW

The Clear Change® 10-Day Program featuring UltraClear RENEW® is designed to enhance the body's natural metabolic detoxification process while providing adequate fuel for both cleansing and other daily activities—providing energy and support for overall well-being.
We are offering 30% off this kit and FREE delivery.
Contact us ASAP!
Rapid Antigen Testing and PCR for Travel are Available!
We now offer rapid antigen testing for asymptomatic individuals who are travelling.
You may fill this form out online to save time when you come in for an appointment. Please call us to book your spot.
Rapid Antigen testing: $40 + HST
PCR for travel: $150 per test + HST
BOOK YOUR APPOINTMENT BELOW
COVID Vaccine Screening Form
You may fill this form out online to save time when you come in for an appointment. Please call us to book your spot.
Flu shots and the new COVID booster are coming soon!
Expected by mid October for high risk and November for the general population.
If you leave us a phone message, we WILL get back to you. If you are placed on hold, consider asking the staff to take your name and number and we will call you back when we are more available. We appreciate your patience during this challenging time!